nanoloop USB-MIDI-adaptor
About
This adaptor connects a Game Boy link cable with a PC's USB port. It appears as a MIDI port on the PC and offers the following functionality:
- Load updates for nanoloop 2.2+ and nanoloop one.
- Load additional 32k ROMs, such as
mGB
, on nanoloop one.
- Backup / restore songs from / to nanoloop 2.6 and nanoloop 1.6.
- Sync any nanoloop version to MIDI-enabled programs on the PC.
- Play the Game Boy via MIDI from the PC using
mGB
.
- MIDI signals from the Game Boy are forwarded to the PC.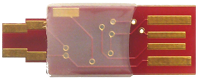 Availability
Nanoloop online shop
(if page doesn't load, please try
www.nanoloop.com/shop
).
Hardware
The adaptor is a bare PCB, shaped to fit into a link cable's plug and a USB port. Electronic parts are coated with a shrink tube.
The connection works without modification, but naturally it is not as stable as a real plug/socket. For critical applications like on stage performance, it is therefore highly recommended to fix the connection and put it into some form of enclosure. This can be acheived by either using an USB host extension cable or by using the adaptor's pins as solder pads.
Requirements
- a Game Boy (DS doesn't work due to lack of link port)
- a link cable (all cables except for the GBA multiplayer cable)
- a PC wit USB port
Softare
Win
Mac
The software is currently a simple command line tool.
Usage
With nanoloop one
With nanoloop 2.x
MIDI sync and mGB